METERS, DISPLAYS
---

PANEL METERS AND DISPLAYS
We run a mass-production of programmable process meters LIN260, DIG260 and LIN200, with relay outputs, analogue outputs and RS485 communication. The most popular LIN260 type – the precise meter with bar graph – has been produced by us for many years. We have sold nearly 10, 000 items.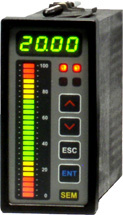 We produce panel displays of various sizes with analogue inputs and serial interfaces, as well as timers and counting devices. We also offer bar graph displays LIN31 and LIN51.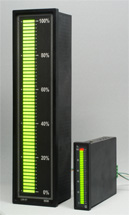 ---
INDUSTRIAL DISPLAYS
We specialize in large-size, digital and text displays. They are available in many different sizes, from the small ones used in machines and appliances to large display objects and outer displays.

DIGITAL DISPLAYS
Our industrial LDN displays are able to co-operate with any measuring and controlling equipment, as well as with information systems. We offer a wide range of control inputs and interfaces, such as:
- Analogue inputs
- Counter inputs
- Serial interfaces
- Ethernet.
Protocols ASCII, Modbus RTU and Modbus TCP are available for digital communication.
We apply, depending on the working conditions, polycarbonate, aluminium or acid-resistant steel casings with the IP-40/54/65 protection degree.
---


TEXT DISPLAYS
Our text displays can receive data in the ASCII format through standard serial interfaces. The LDA series includes displays 60 or 100 mm high, in the format of 5x8 pixels. The LD120 family can display signs in 5x7 and 9x16 pixels formats, in 3 colours.

---


FREELY PROGRAMMABLE LED SCREENS
We offer three-coloured industrial LED screens with definition up to 256x64 pixels, at the size of 1950x488 mm. They can display signs 50 or 120 mm high, legible from a distance up to 50 metres.